2018
Für immer Blau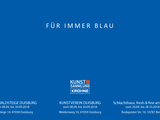 "Für immer Blau" will be showcasing a fine selection of works by visual artists represented by the Krohne Art Collection. We look forward to welcoming you in Duisburg, at the Villa Waldsteige, and in the new Berlin gallery, Schlachthaus.fresh&fine art.
KUNSTVEREIN DUISBURG
vom 08.09. bis 30.09.2018, Eröffnung 08.09., 12:00 Uhr
Torbjörn Berg, Andreas Blank, Robert Gschwantner, Monika Immrová, Bernd Jansen, Rudolph Knubel, David Krippendorff , Gereon Lepper, Milovan Destil Marković, Mario Reis, Stephan Runge, Gabriela Volanti, Birgitta Weimer, Jindrich Zeithamml.
Kunstverein Duisburg, Weidenweg 10, 47059 Duisburg, info@kunstverein-duisburg.de, Tel: 0203 - 7 18 78 41
VILLA WALDSTEIGE DUISBURG
vom 08.09. bis 30.09.2018, Eröffnung 08.09. 15:30 - 19:30 Uhr, 17:00 Uhr: Alexandra von der Weth (Sopran) mit Klavierbegleitung, Öffnungszeiten Villa Waldsteige 14 Sonntag 09.09. 11:30-18:00 Uhr
Benjamin Bernt, Claudia Chaseling, Cissel Dubbick, Kai Hackemann, Konstantin Lange, Johannes Offerhaus, Detlef Reuter, Kim Reuter, Stefan Rinck, Hans Chr. Rüngeler, Maik Schierloh, Bernd Schwering, Ylva Törnlund, Isolde Wawrin.
Villa Waldsteige, Waldsteige 14, 47058 Duisburg, Tel: +49 176 - 31 47 52 14
Schlachthaus. fresh & fine art BERLIN
vom 20.09. bis 28.10.2018, Eröffnung 19:00 Uhr, Öffnungszeiten: Dienstag - Freitag 14:00-17:00 Uhr
Monika Immrová, Peter Royen, Eva Sjödahl Essén, Jindrich Zeithamml.
Schlachthaus. fresh & fine art BERLIN, Budapester Str. 10, D-10787 Berlin, ck@schlachthaus-ff.com, Tel: +49 177 - 5 27 61 88
Die Ausstellungen werden kuratiert von Constanze Kleiner, Stephan von Wiese und Kristian Dubbick